Tour da Bicicultura means "the cycling culture tour".
We're planning a trip through Europe connecting interesting cycling businesses, NGOs and projects. We don't have a date yet, but this is something we want to do as soon as possible.
Who are we?
We're a couple, Ana Pereira and Bruno Santos, we've been together for 15 years, and we've been running a business together for the last 10 years, Cenas a Pedal.
In 2014 we adopted baby dog Mutthilda, whom we take along (all 12 Kg of her) with us, on the bikes, to most places, and that shall share with us this trip.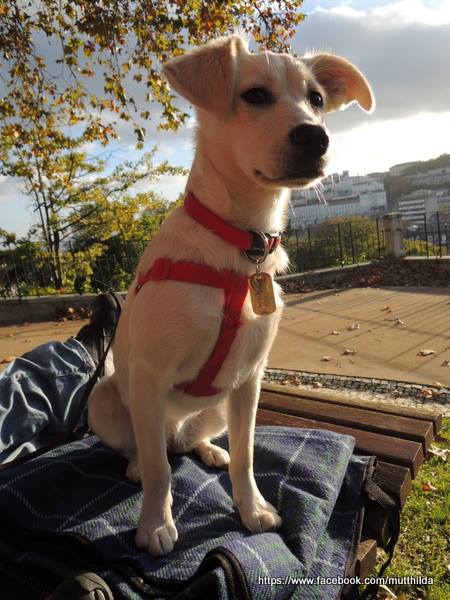 We were still in college (I was studying biotechnology and Bruno computer science) when we reconnected with our love of cycling. We started out as fans and activists and quickly decided to do it full time, with a business focusing on educating and enabling people to use bicycles for transportation and for fun. This was a mission valid in itself, but also a trojan horse to promote better cities, livable cities.
Before and during our time with Cenas a Pedal, we were Critical Mass activists, [re]founded Cicloficina, a do-it-together cycling workshop event, created Planeta Bicicultura, a cycling-themed blog aggregator, co-founded MUBi, the first national NGO fully dedicated to fighting for the rights of people who use bicycles for transportation and to promote that life style, and orgnized the first edition of CycleHack in Portugal, among other projects and initiatives related to cycling, walking and cities for people.
Why are we doing this tour?
To grow, to learn, to share, to have fun, to explore, to try ourselves, to craft our own life story.
This is a trip with no specific return date. To go on this tour we're turning in our rented apartment and the lease on our workshop, and selling our assets so we can leave debt free. We want to leave no loose ends so we can go and be free to be open to whatever comes our way. We're doing this trip because:
We want to travel.
We want to ride our bikes.
We want to try out and ride other fun and weird bikes!
We want to see what cool stuff and great work others are doing and learn from them.
We want to make new friends and meet old ones.
We want to put faces to names of business partners.
We want to study, take classes, do workshops, visit fairs, go to conferences, around the world.
We want to visit shops, factories, fairs, NGOs, and other interesting or fun cycling projects.
We also want to share with others our own experiences, perspectives, knowledge and expertise, particularly in the cycle training field.
What are we looking for?
Interesting people, businesses, NGOs and projects related to cycling and/or sustainable, livable cities around Europe, to visit, get to know, and maybe photograph, film, and/or interview. We want to learn about good things others are doing and share it with the world through our different thematic blogs (Viagens a Pedal, Escola de Bicicleta, Cenas a Pedal, Cultivar Cidades and maybe our personal blogs).
We've started a list but it's just the beginning, after mapping we'll have to work on routes and selection.
What do we need?
This is a self-funded trip. But we have no funds. 🙂 So we'll need to find ways to meet our daily needs on the road: a place to stay and food to eat being the main things, but also pocket money for everything else.
Also, because this is not simply a leisure trip but we're making it about things we care about and work at, we'll need to find suitable places to work for a few hours each day, or each week (a power socket, good wi-fi signal, a desk, some peace and quiet).
Because we don't have savings to sustain us during this trip, we'll be looking for opportunities to regularly do paied work*, or work in exchange for accomodation and/or food**.
* we're looking for opportunities to do paied work in cycle training and bicycle mechanics, directly with the public, but also within projects by other entities.
We'd also very much like to have the opportunity to help local NGOs or businesses set up successful cycle training schools and services, by sharing our knowledge and expertise and training people to do the same work we do, for a fee.
** we're looking for wwoofing opportunities, but also to apply the same concept to bike shops, bike factories, NGOs, etc, where we can lend a helping hand in everyday activities and / or special projects, while also learning more about them, in exchange for accomodation and/or food for a couple of days or up to a week. We have 9 years of retail and service experience in the industry (sales, workshop, rentals, events, training, etc, in Cenas a Pedal, and also have worked in some advocacy projects as volunteers, namely at MUBi.
We're both qualified and experienced Cycle Training Instructors, and Bruno is also a professional Bicycle Mechanic. Together with a specialty bike shop dealing with cargo bikes, recumbents, pedelecs, city bikes, etc, this is mostly what we've been doing professionally for the last 9 years.
So, how could
you

become part of the story of this tour?

Drop us a line! We're looking forward to hearing from you! 🙂 info@cenasapedal.com